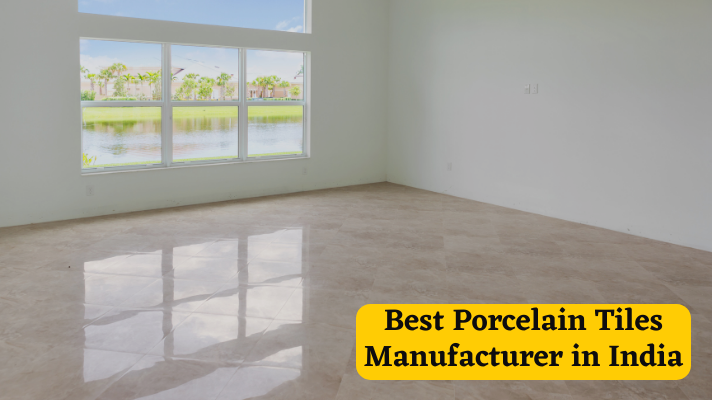 Possibilities with porcelain tiles are endless, there is no limit to what a home or business owner can achieve with this most versatile tiling solution in the market today. It has a perfect solution for each surface there is, be it an outdoor cladding, your kitchen countertop, your bathroom shower or your luminous living room, every area it has come in contact with has been magnified in personality.
As a major Porcelain tiles supplier and a leading porcelain tile manufacturer in India, Adila Ceramic with their endless characteristics and exquisite applicability, have enabled them to dig deep into researching new innovations and to study and improve the product, in order to achieve the most complex and creative tiling solutions for you.
Porcelain tile compositions contain different proportions of feldspar, sand, clay, as well as other substances. These are dissolved in water. A drying system eliminates excess water from the mixture, resulting in the ideal texture. The tile is formed by pressing the mixture. The tile is shaped with a mallet to the appropriate form and size.
The tile thus created corresponds to a ceramic that has not been polished or baked in a furnace. After the tiles have cured, an inkjet printer is used to apply the design and colours. Following that, a finish is put in place to protect the tiles. In a furnace, the porcelain tiles are burnt to temperatures up to 2,500 degrees Fahrenheit.
Why Porcelain Tiles?
Porcelain offers unrivalled creative freedom, making it a popular choice for porcelain floor tiles. Ceramic tiles are thicker, more durable, and more expensive than porcelain tiles. Porcelain floor tile suppliers all over the world are swamped by the increased demand for this type of tiling solution.
Because of the most contemporary and continually increasing technology, you may now acquire the sort of possibilities that porcelain floor tiles have, which are more random, natural looks. This lifts your floor to the level of a statement piece, and it works best with simple yet modern décor. Porcelain tile is a popular choice for bathroom flooring.
Porcelain is a denser, less porous, and more durable alternative to ceramic tile, as well as being more stain and water-resistant. It's also suitable for radiant in-floor heating, which keeps your feet toasty on frigid mornings. Tiles may be created to seem like natural stone varieties like granite and limestone. Newer designs are influenced by exotic nature and current discoveries.
Adila Ceramic, one of the leading Porcelain floor tile suppliers in India, is always developing new innovations and improvements to its operations in order to provide the most amazing possibilities in floor porcelain tiles and they have been able to achieve that on a regular basis.
Adila Ceramic – Best Porcelain Tiles Manufacturer
Adila Ceramic is the best porcelain tiles manufacturer in recent years, amongst all the major players in the Indian tiles industry. Being one of the leading manufacturers, they have been able to maintain a reputation of being a prominent porcelain tile distributor in India and around the globe. They have been able to maintain a quality that is unmatched because of their work ethics and workforce including the think tanks of the organization who are by far one of the most accomplished in the industry.
They have been one the most creative manufacturer in the scene who have experimented and succeeded in their search for a superior porcelain tile, which is a far better choice for tiling as compared to other tiling solutions in the market.
Quality Assurance
Adila Ceramics unmatched manufacturing process and vision to deliver the best quality porcelain tiles. With quality checks on each of the production processes, their porcelain tiles have been the ideal addition to their customer's homes. Their Porcelain Tiles are ensured for their innate exceptional durability and resistance to breakage, wear, and tear, and their high denser composition makes them perfect for high-traffic areas with heavy foot activity.
During the lengthy and rigorous manufacturing process, the porcelain tile goes through the treatment at high temperatures, all of the moisture from the clay is removed, resulting in its hardness and denser clay. As a consequence, Large Porcelain wall tiles are a practical and acceptable alternative for porcelain bathroom wall tiles, kitchen wall tiles, and other locations where water is likely to be present. Porcelain tiles have a low water absorption rate, which makes them water-resistant.
Adila Ceramic, as a porcelain tile supplier and distributor, is a cut above the rest due to its unrivalled quality and standards.